Elden Ring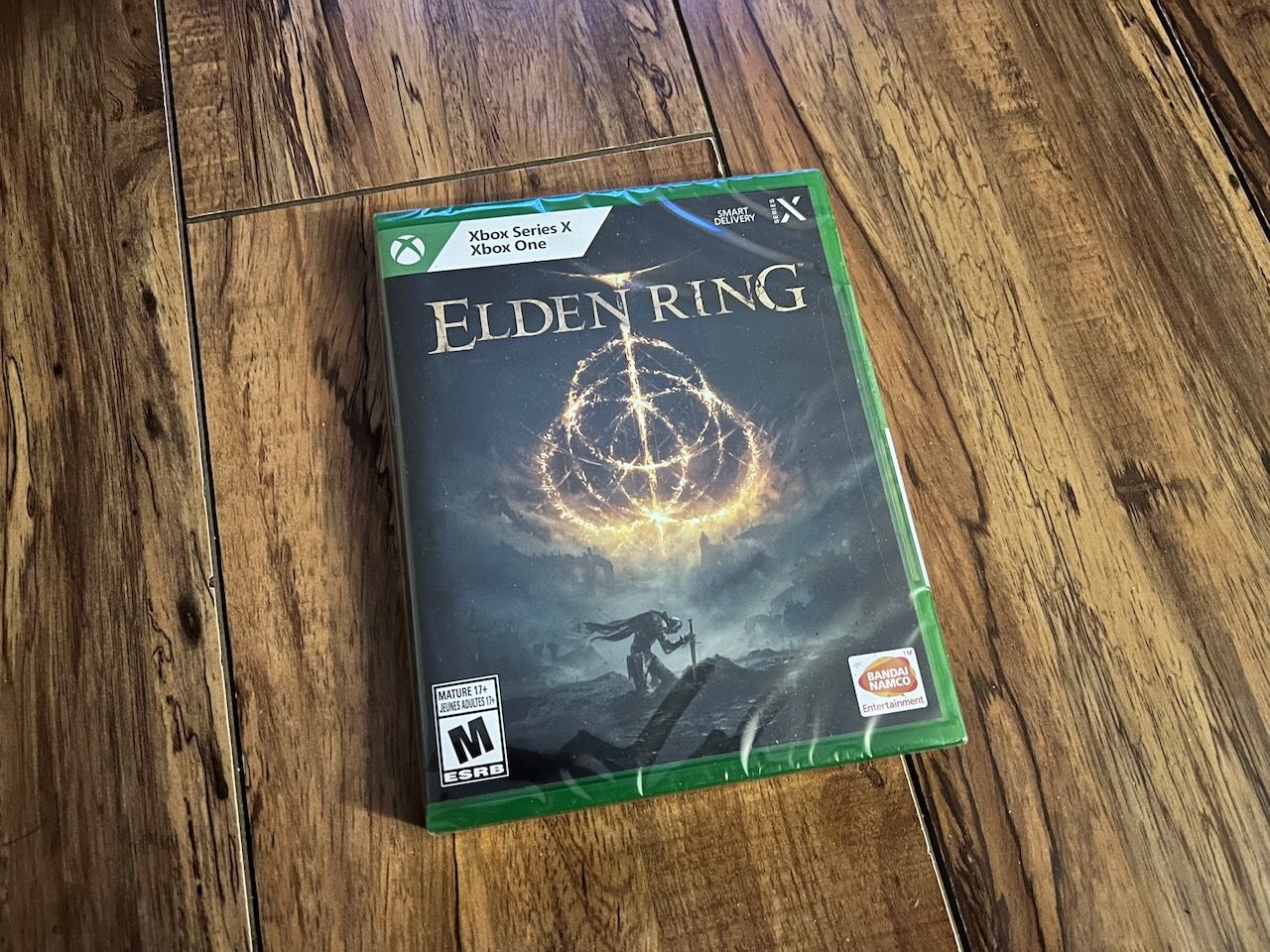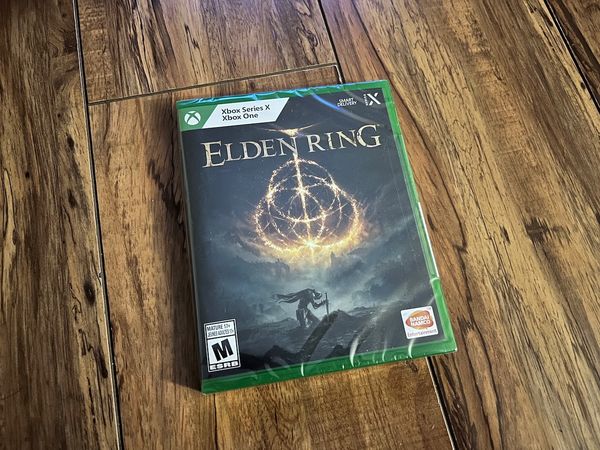 In the aftermath of the Twitter frenzy, I learned that there had been a debate about a New York Times article. Interestingly, it was an article about a game, maybe the hottest game these days: Elden Ring.
It seemed that several Tweets (of course they were) provoked the dispute, and another article from INVERSE poured oil over it. The article denounced the NYT article that the "legacy media" did not know how to cover games. It said that The Gray Lady (NYT) had a palpable distaste for games, and the article came out because the desk pushed it in utter obliviousness, condemned that The Gray Lady should acknowledge the value of the expertise. I thought it could be another example that major journalism made the mistake of touching on a topic that it was not used to. So, I read the NYT article and thought:
"What the hell! Are you kidding?"
The haters seem to get worked up over mainly two sentences:
"Struggle has always been a central theme in the games of Mr. Miyazaki, who rose to fame with the modest success of the Dark Souls trilogy, Elden Ring's predecessors, but so is the need for people to turn to one another."
Yes, the Dark Souls (1, 2, and 3) are great games. They are sold more than 27 million copies in total. It initiated its own subgenre: "Soulslike." But I believe the word "modest" emphasized Elden Ring's greatness. Elden Ring had been sold more than 12 million copies in just 17 days. We can see its marvelousness from the following graph.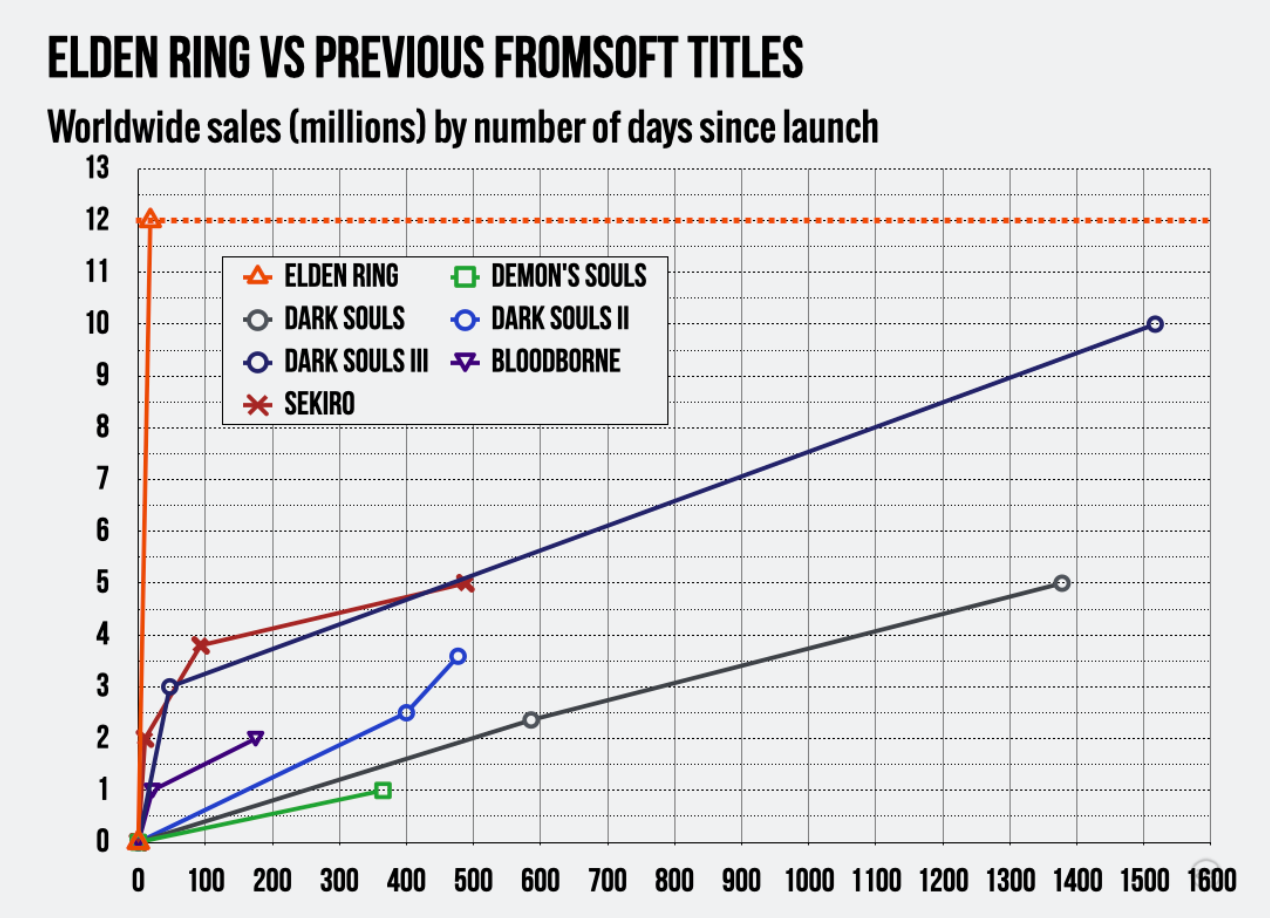 "It's difficult to imagine Elden Ring having this sort of cultural cachet in any other era."
This sentence can be a little more debatable. But as we've seen above, Elden Ring's success is exceptional compared with its predecessors. We indeed can say it is a cultural cachet as many people (who haven't acknowledged the series) are also aware of the game. And the author is saying he is one of them, and he believes it was thanks to this pandemic era. IMHO, the NYT article was a beautiful retrospect that the author had enjoyed the game in the days of the pandemic.
"Many of us have endured the pandemic alone because restrictions and health risks make it difficult to travel and gather indoors. It has been an impossible situation to navigate, and the struggle goes on, but we're in this together for the long haul. Why not turn to one another?"
How can a few peripheral wording make a love letter into a war declaration? The tweets cherry-picked the words and made the frame; reproduced and amplified. Only hates remain.
It might not be a coincidence that Dean Baquet (the NYT executive editor) mentioned recently that their journalists should meaningfully reduce their Twitter usage.
"First, maintaining a presence on Twitter and other social media is now purely optional for Times journalists. In fact, after speaking to dozens of you, it is clear to us that there are many reasons you might want to step away, and we'll support anyone who decides to do so. If you do choose to stay on, we encourage you to meaningfully reduce how much time you're spending on the platform, tweeting or scrolling, in relation to other parts of your job."
The NYT strongly encouraged using Twitter because they believed propagating the ideas/articles was important besides good articles themselves. But they might think the time has changed; Twitter might do more harm than good - especially, the bad behavior hurts their journalists too devastatingly. I still believe good journalism shouldn't be walled by its paywall. But having mixed feelings, no good answers. And the new leadership may lead us to another cultural cachet.
P.S.: I'm sorry if you want to see a post about the Elden Ring gameplay. I bought it on day one, but I couldn't play it because I was captivated by another game. It will be another day's story.