Thanksgiving Road Trip 2021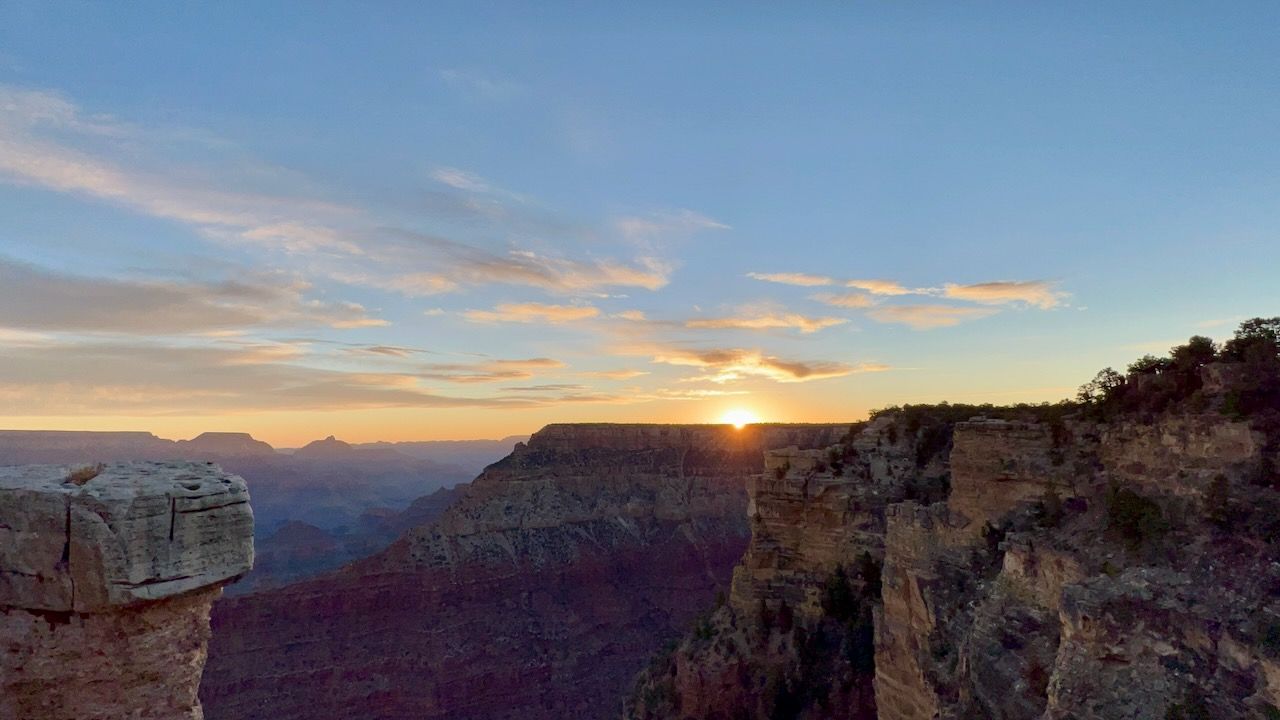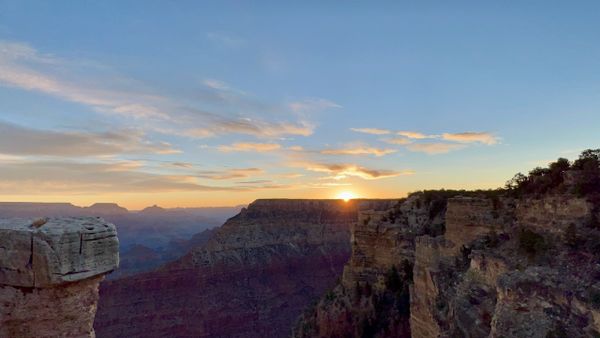 My parents are visiting the US to have family time held off for a long time. My parents are not active persons; they don't have much travel experience. Their favorite must be seeing their granddaughter (they literally raised her), but I wanted them to have new experiences. So, I planed a road trip during the Thanksgiving holidays.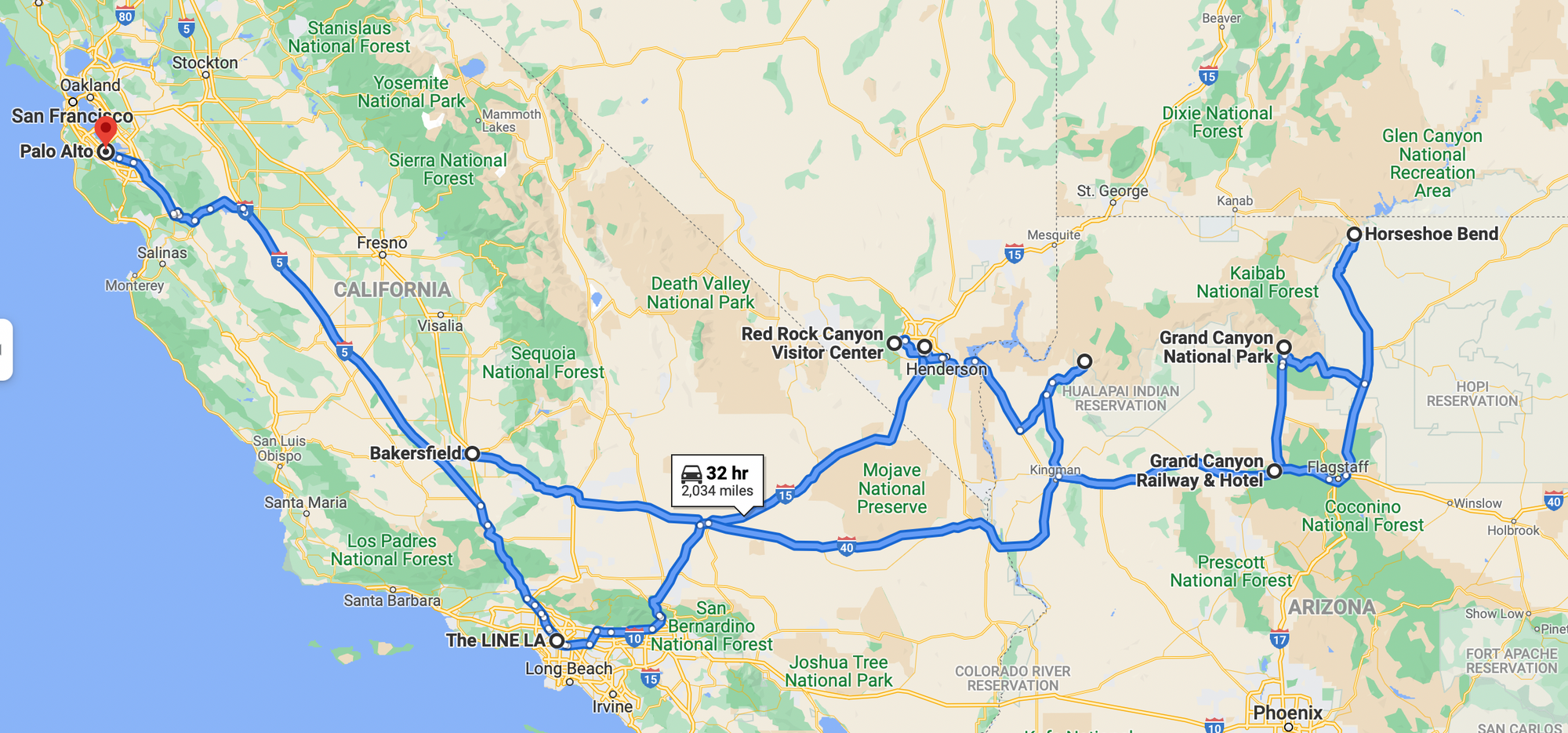 It was a road trip of eight days and 2,058 miles. The main destination was Las Vegas and Grand Canyon. I had usually run a car around 1,000km (621 miles) a year in Korea. So, it was three years' driving for me. My car - Toyota Highlander Hybrid 2021 - was great for the trip. The driving could be challenging unless the Full-Speed Range Dynamic Radar Cruise Control. These days, dynamic or adaptive (the names vary between brands) cruise control is somewhat the default feature in high-end trims. But it really pays off in long-range highway driving - especially when running endless straight and dull roads such as I-5. The 35 mpg helps me not only financially but also with convenience; it gave me 450~480 miles of the cruise distance, and it terminated my anxiety when I planned the next gas stop.
The first stop was Bakersfield. I expect it would be a stop-over place for a night as we had to leave home after my daughter's school. It was just as expected - nothing special places - but the hotel became my favorite: The Courtyard by Marriott Bakersfield. All amenities are designed and placed very thoughtfully. It was the most accessible hotel I had ever experienced in the US.
On the way to Las Vegas (CA-58 and I-15), we could see surreal scenery that mist and wind generators. Yes, I had seen giant wind generators before, nothing special. But there were so many gigantic wind generators on the endless field in the misty morning. And... horses were grazing on the grass. I could enjoy a lot of scenery this time: mountains, deserts, plains. But those white giants and horses were the last thing I could expect before. It made me feel that I was somewhere in another metaverse.
Las Vegas is Las Vegas. It was my second time visiting the city. I expected we could see a somewhat pandemic version of the city (i.e., less crowded). However, still, we could just see the city of jollifications. There were so many people over there, just as many as my last visit. Most of them were without masks outdoors (a bit scary), but many with masks indoors (mandated, which made me less nervous). We watched two shows: The O Show and David Copperfield. The O Show was my fifth Cirque du Soleil. Although my favorite performance is still Kooza, the stage mechanic of the O Show was impressive to me. I saw the magic show of David Copperfield ten years ago, but it seemed that he had revamped the show a lot. I couldn't remember the old one precisely, but I believe he reduced the items of the show. He got more talkative than before (I remember there were more dancings and music). Maybe it is because he got older. However, the show was still fantastic; I'd never imagined a huge UFO indoor stage right up to my eyes. The Paris hotel got us to have a great location. It was in the middle of the Vegas main strip, and we could walk to almost every primary place.
Then we visited Grand Canyon West. We left Las Vegas early in the morning at 8 am, then arrived before lunchtime. Driving I-40 made me thrilled: it was the I-40 and the Route 66 of Cars.  Grand Canyon West was not a national park but a private facility. The Skywalk gave us a magnificent view only if we dared to look downward. We were in the line for about 30 minutes to get into the Skywalk, but when we got out, we found five times of the line that we were in.
To watch the sunrise at Mather Point, Grand Canyon South Rim, we had to wake up at 4:30 am. The sunrise was at 7:15, but it took one hour drive from my hotel (Grand Canyon Railway Hotel). We're lucky to have a clear sky, and the sunrise was magnificent. I had been thinking that the old picture background walls in the 60's Hollywood movie are flimsy ideas. But when I saw the deep down of the rim, I couldn't tell it was a real or a picture. I knew it was real in my brain, but it didn't come to my heart. In the afternoon, we drove two and a half hours to Horseshoe Bend to watch the sunset. I had the opposite experience over there. The hostile sunlight made the scenery just a fair fine view. But when I saw the pictures that my new iPhone 13 Pro Max took, it was not what I had seen; it was a distorted reality of grandeur. Yes, the new iPhone makes every photo vibrant, so vibrant that I was sorry for my eyes.
The world is getting normal. Sometimes, we still have to mask on, and the new Omicron might haunt us back. But this trip gave me confidence. America is beautiful, too beautiful to watch from a screen. I want to visit more places in 2022 - with my new America The Beautiful pass.