Travelling during the pandemic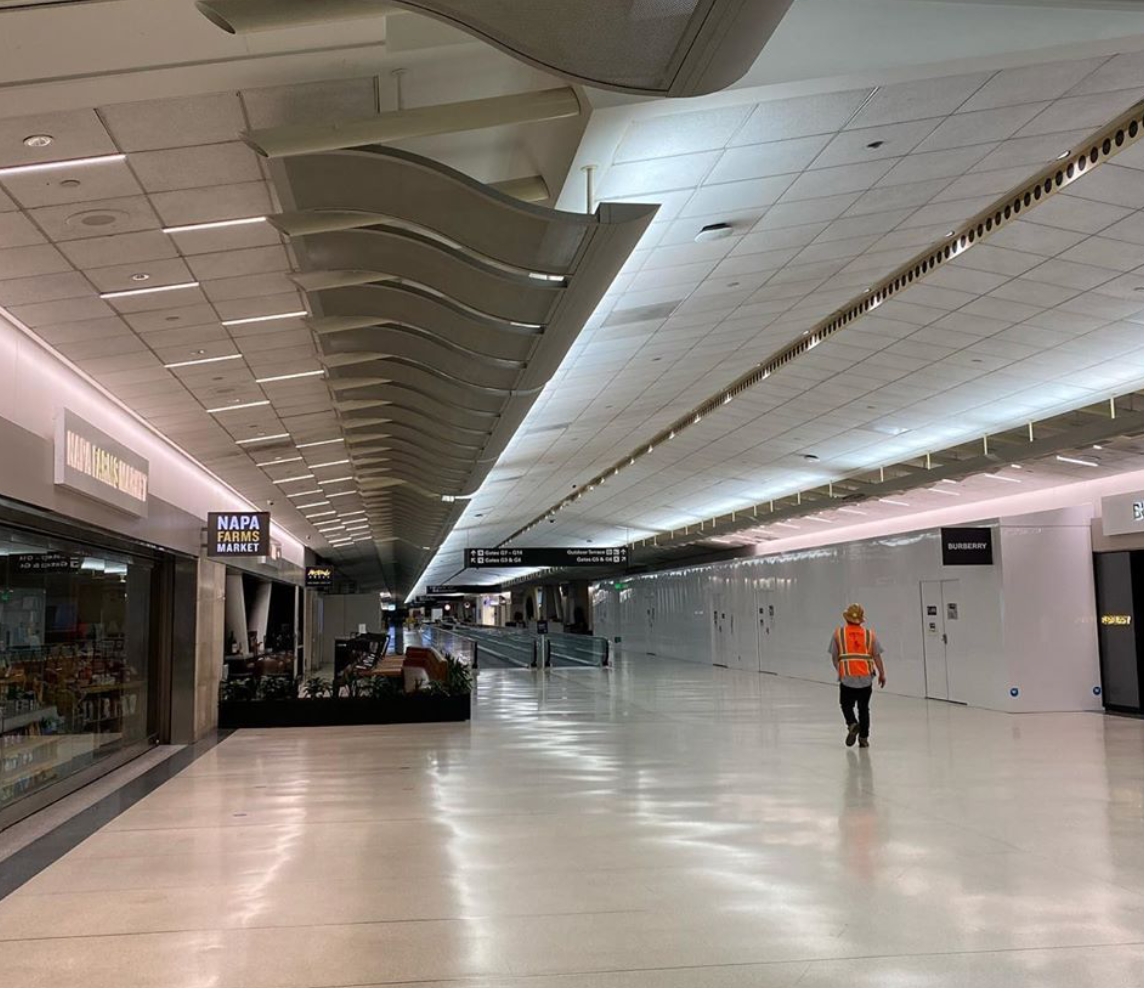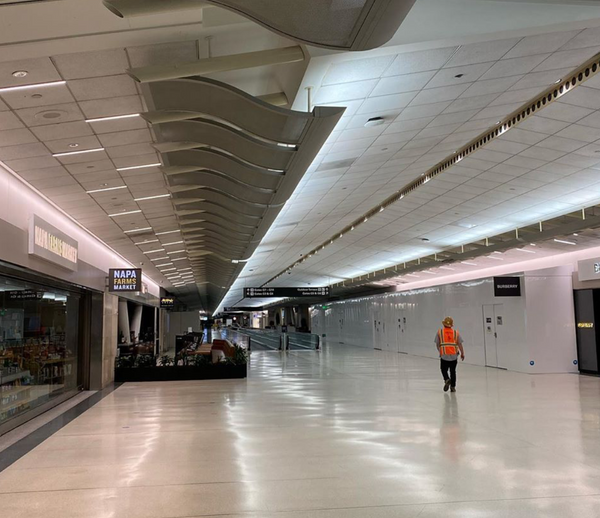 My daughter and I arrived in Korea a few days ago. We're currently under 14-day self-quarantine. I couldn't imagine what a journey during the pandemic looks like. But my daughter graduated from elementary, and now it's her summer break, and we'd like to have a family reunion. So, I decided to know what it actually is.
My flight time to Incheon, South Korea (ICN), was 0:15am. We arrived at the San Francisco International Airport (SFO) at 9:30pm. Unusually, the airport was filled with stony silence. I was afraid of how long the security check line would be as we had to keep the 6ft social distance, but it was utterly groundless - only five were there. The security check took only about 10 minutes, and the staffs were kind than ever. Using restrooms was a little bit stressful, and almost no shops were open (just one Japanese restaurant was open at the time). But it was the most comfortable airport experience during my last 20 years at SFO.
The flight was also comfy. Only 1/3 of seats are occupied (I was not sure this is because Korean Air intentionally undersold tickets). There was almost no turbulence, no stress for busy restrooms. I could sleep very well during most of the flight time, and it arrived one hour ahead of schedule.
The immigration procedure was a bit different. I had to prepare a bunch of paper works. Usually, we only needed one customs declaration for a family. But there were three additional papers per person, so I had to put down the passport number and the home address seven (1 + 2 x 3) times. Everyone who wanted to enter Korea has to install a mobile app to report the health condition twice a day. It also tracks my location, and I have to be in my self-quarantine place. It seemed to restrain my freedom too much, but I'm trying to understand it will protect other people and me. Moreover, this restriction did not come without compensation.
Every entrant in Korea (regardless of Korean or not), has to take a 'complimentary' COVID-19 test in three days. Each local government takes charge of it. When we moved out of the entry gate, Seongnam city office - the local government of my home - scheduled a designated bus for us. (Though we have to wait three hours as the first bus was at 8:15am.) Another bus was waiting at the city bus terminal, and it took us directly to the test site. The COVID-19 test was the worst one in my life. A flexible cotton swap stirred from my nostril to throat about a minute, and another swap came to my mouth and went down to my deep inside throat. I really don't want to do it again (never). After the test, the bus took us to my home - my self-quarantine place. My wife took refuge in her mother's house, as we cannot be together during the quarantine period. My parents are supporting us now, and we separated rooms and a bathroom with a plastic curtain.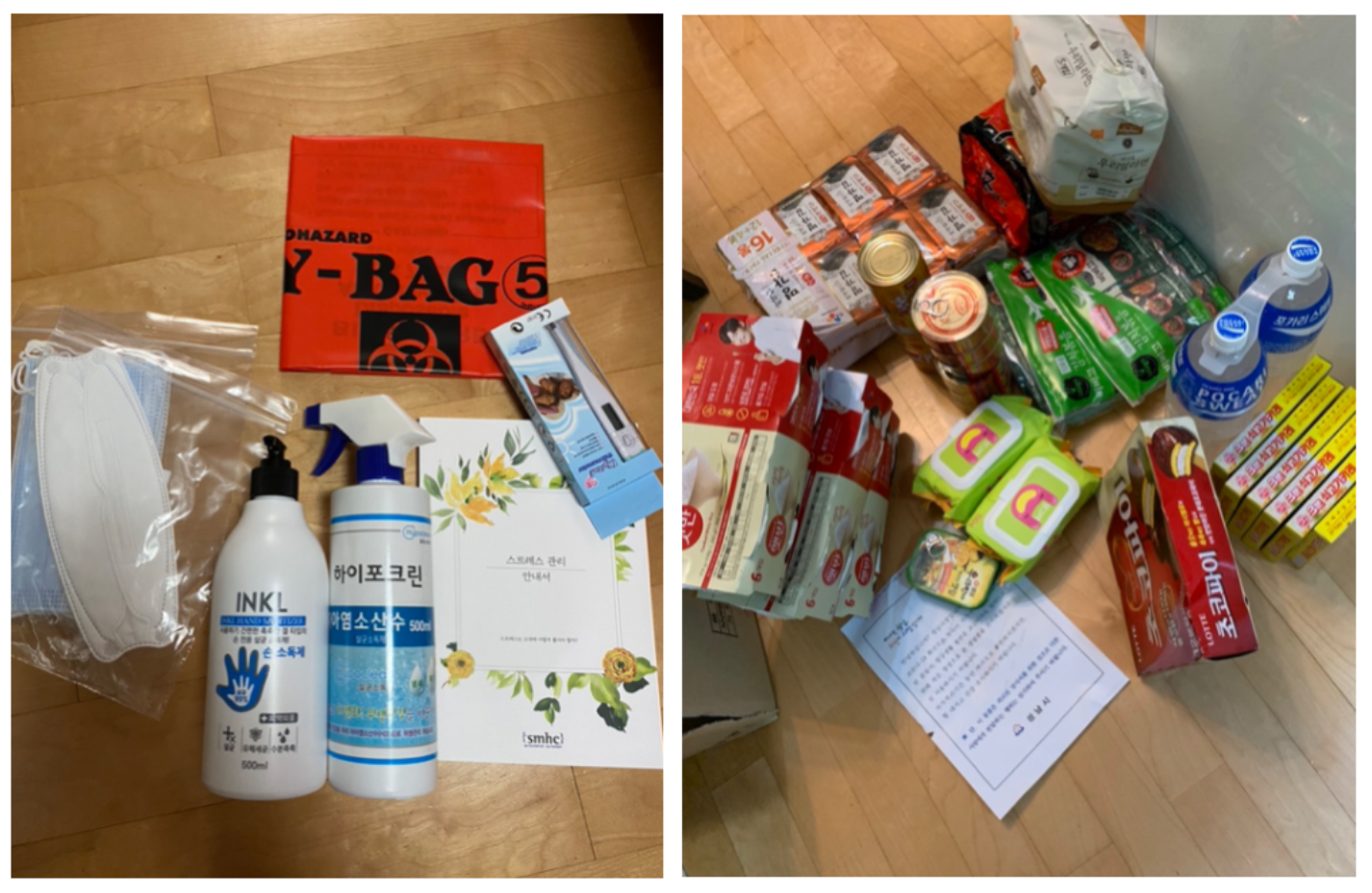 The city office gave me two boxes (two per each person). One box had a thermometer (as we have to report the temperature via the app), hand sanitizer, and so on. The other one had (plenty of) food. I really appreciate them. I think the feeling to be cared for is more precious to me than the goods themselves.
The COVID status in Korea is better than the US, but not totally settled yet. We still have around 50 new cases every day. Considering 50 million Korean population, we may find it trivial. But the untracked cases (the cases cannot identify the source) are increasing, so we cannot consider it is over yet. But, the extensive tests and supports from the government make rooms to breathe and make us feel safe. Generally, I don't like big government. The bloated public side breaks into the private side; it reduces productivity and hinders innovation. However, I come to believe we need more room for the public side in health and safety. I hope we can find the optimum before we cost too much for it. But for now, I'm so happy as I can watch the KBO baseball league live everyday.