Yosemite 2023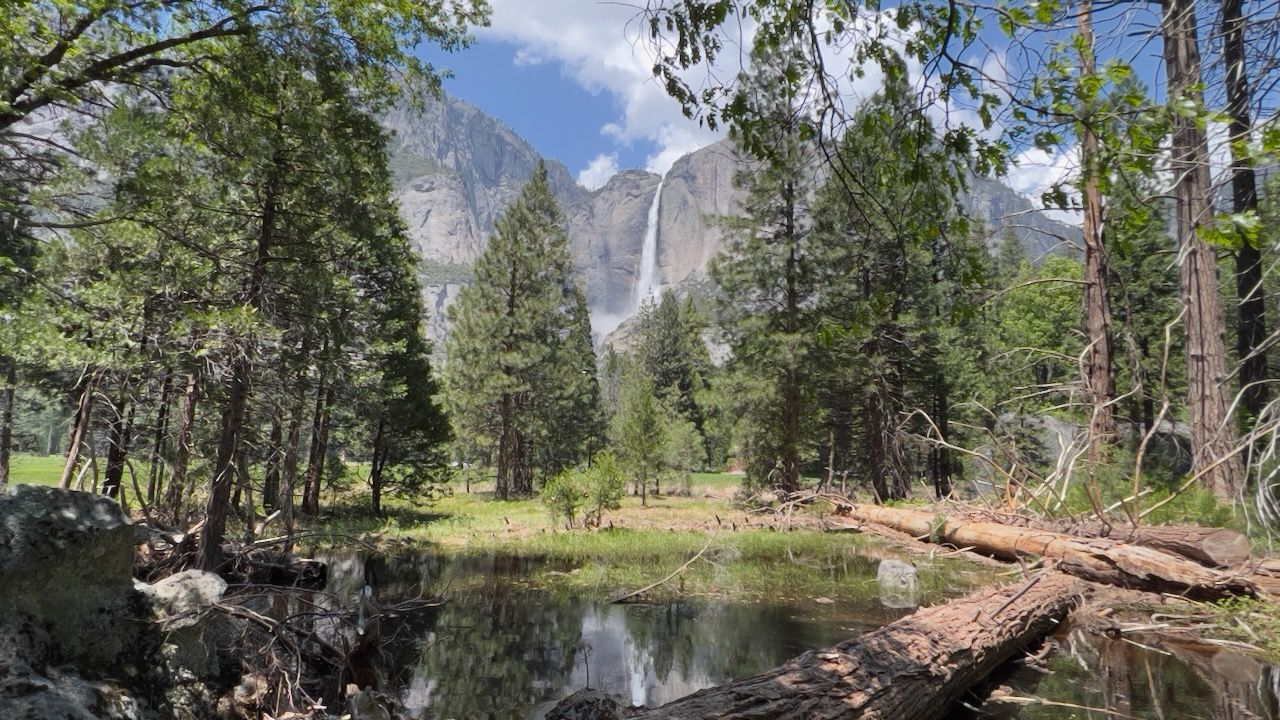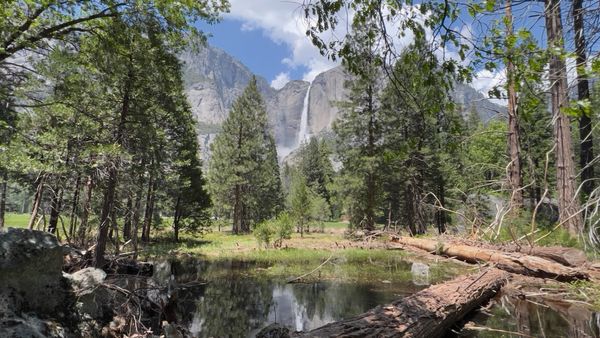 We've been to Yosemite National Park during the Memorial Day holidays two years in a row. Yosemite discloses different appearances throughout the year, but May is often regarded as the best time due to its abundant water. That's why we visited on Memorial Day last year and got indescribable impressions through the Mist trail and Nevada Falls. So, revisiting Yosemite this Memorial Day was an easy decision, but it came out that it wouldn't be so easy for the same reason: water.
California had a historic snowfall last winter. As the weather got warm, it caused flooding issues in many places - Yosemite was one of the most seriously affected regions. Several lower-level campgrounds were closed. I had merrily booked Yosemite View Lodge simply because we were so satisfied with the place last year, and I learned that many roads were closed and we could only access the Park from the West gate, which was only 2 miles from the Lodge – how lucky we were! Anyway, we had to be agitated for any news from NPS until the last moment and left for the Park Friday afternoon. It took five hours to get there; usually, it would take 3 hours and a half.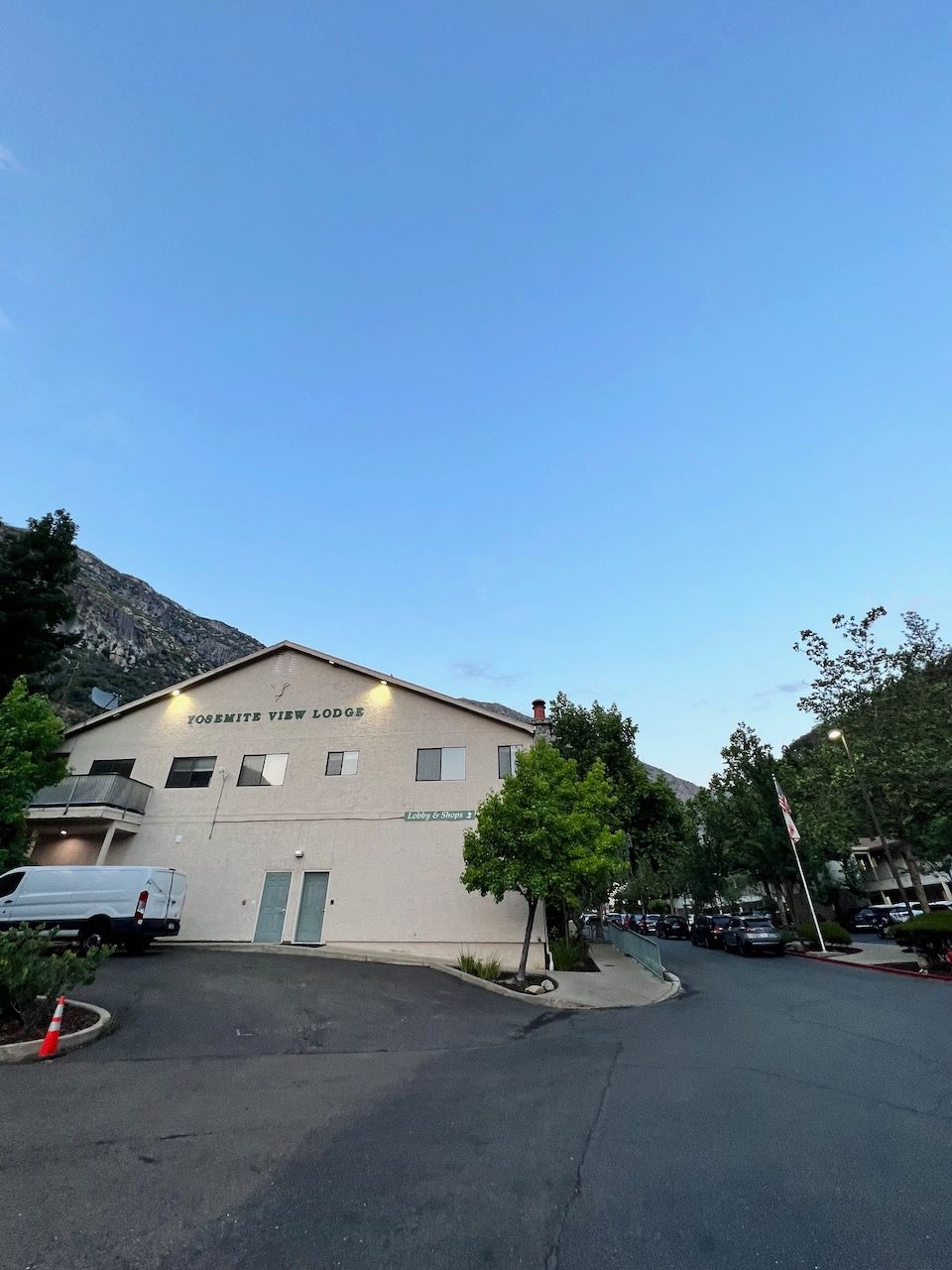 I recollect my memory of what was good and bad for the Lodge: a great location (good), a room with a kitchen, a microwave, and a fridge (good), Pizza closes at 8:30 pm (bad), no cellular and $10 per day WiFi (bad), and so on. But seeing incredible water currents from the riverside view room was a breathtaking experience. Even the 5 am power outage couldn't offset the precious memory.
Last year, we had a reservation system for the Park entry. This year, no reservations - first come, first in. We learned that we should have to move fast: last year, there was no parking lot space at Curry Village at 7:30 am. So, we left the hotel at 6:00 am (did I mention that we had a power outage?) and arrived at Yosemite Village Parking Lot at 6:30 am. Early morning in the National Park is always rewarding. However, breakfast is always the issue - we need a way to fuel up ourselves in the early morning.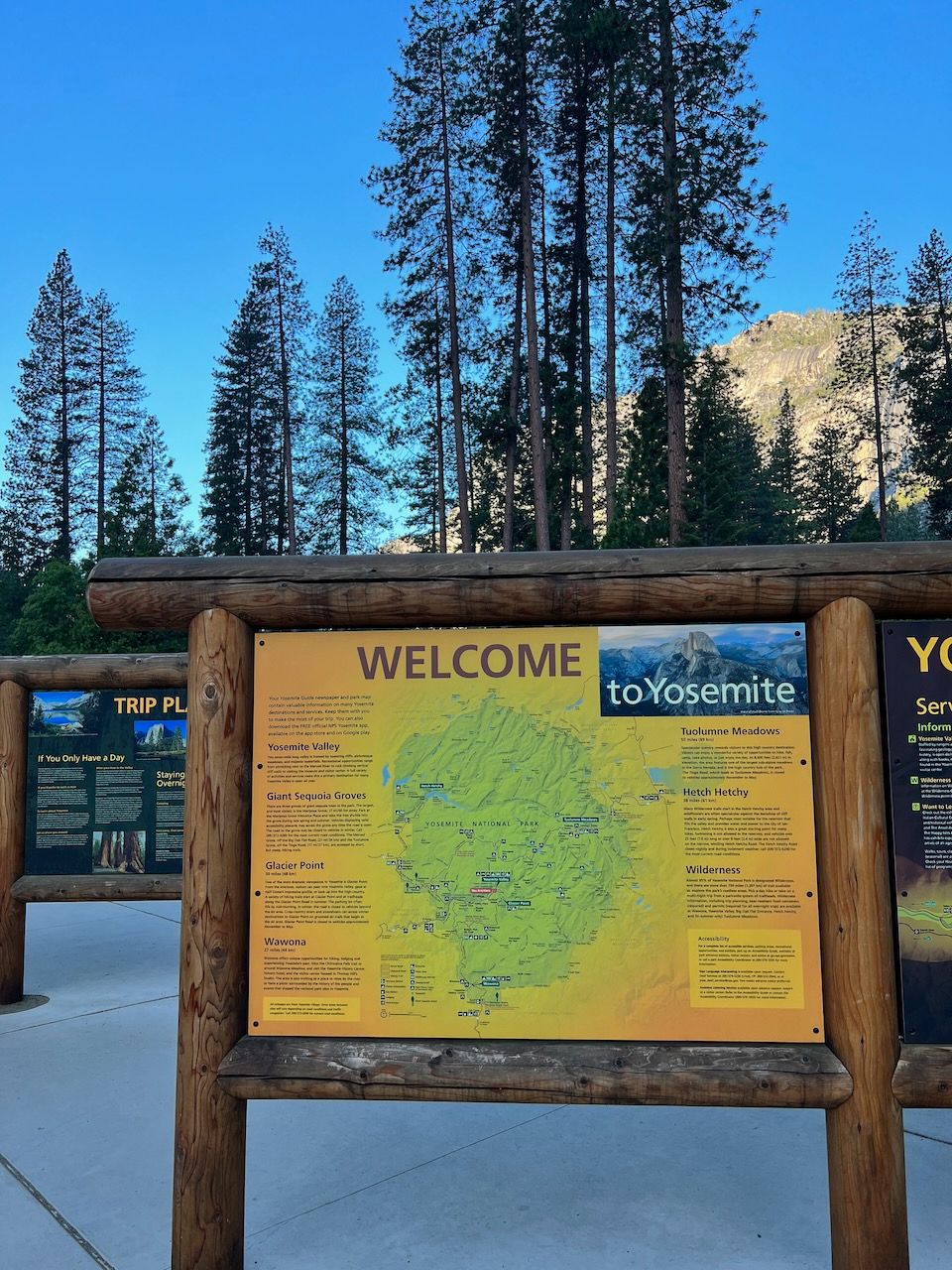 Luckily, I got a great tip from my colleague: The Ahwahnee (hotel) serves breakfast. The Yosemite Village Parking Lot is the shuttle stop No.1 – where the shuttle starts, and The Ahwahnee is No.3. The shuttle begins at 7:00 am, and we could get to the hotel around 7:20, walk in, and enjoy an excellent breakfast. The breakfast was buffet style and $32 (adults) / $14.5 (children) – a little expensive but worth every penny to charge up our bodies for a tough expedition day.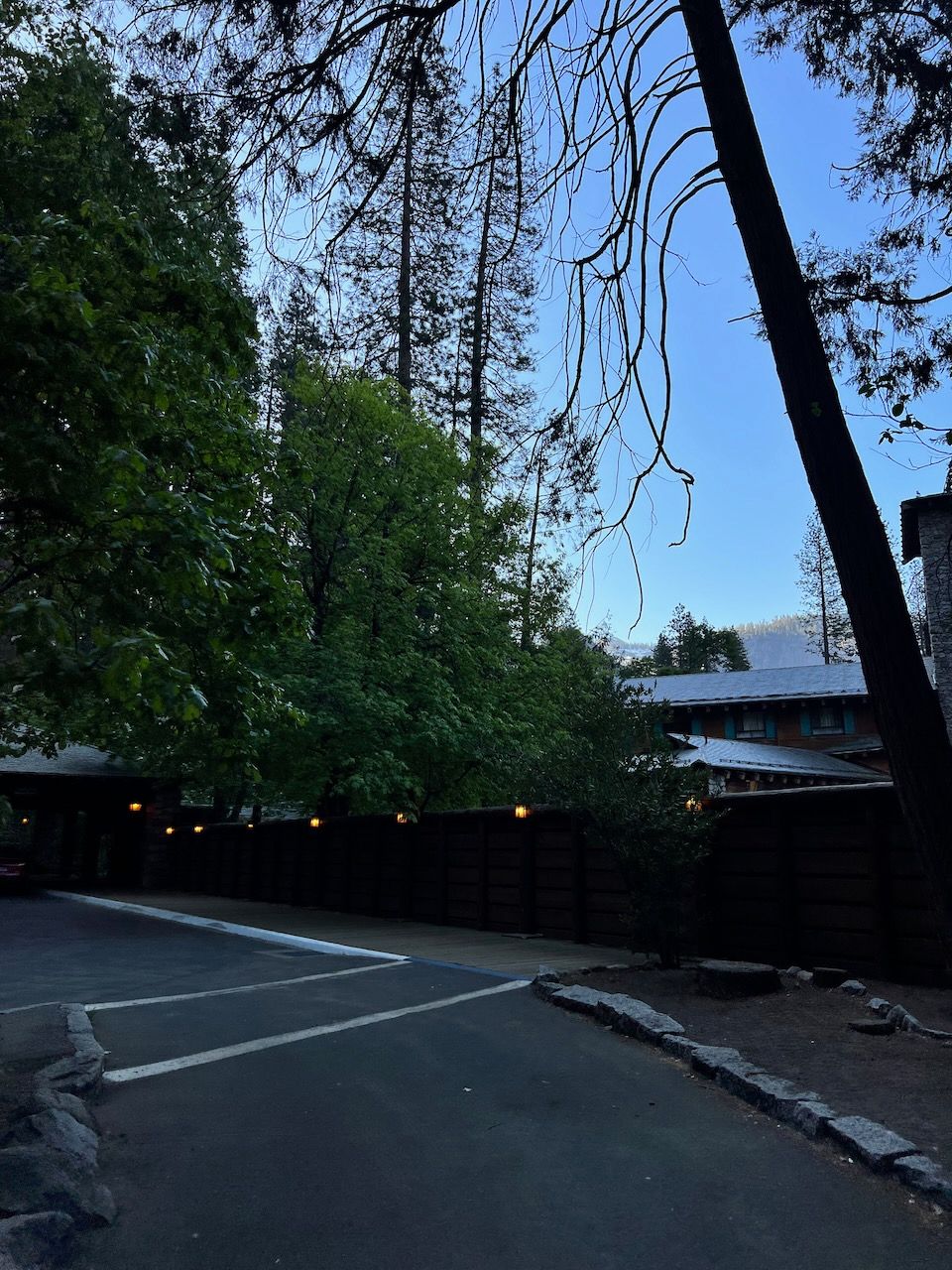 After breakfast, we started the day at the Yosemite Falls. I was there last year: same place but different water. When I stood on the bridge under the waterfall, it felt as though I was trapped in a room filled with countless water droplets. Last year, many people climbed up to the rocks to enjoy the water more closely; this year, no one dared to do that.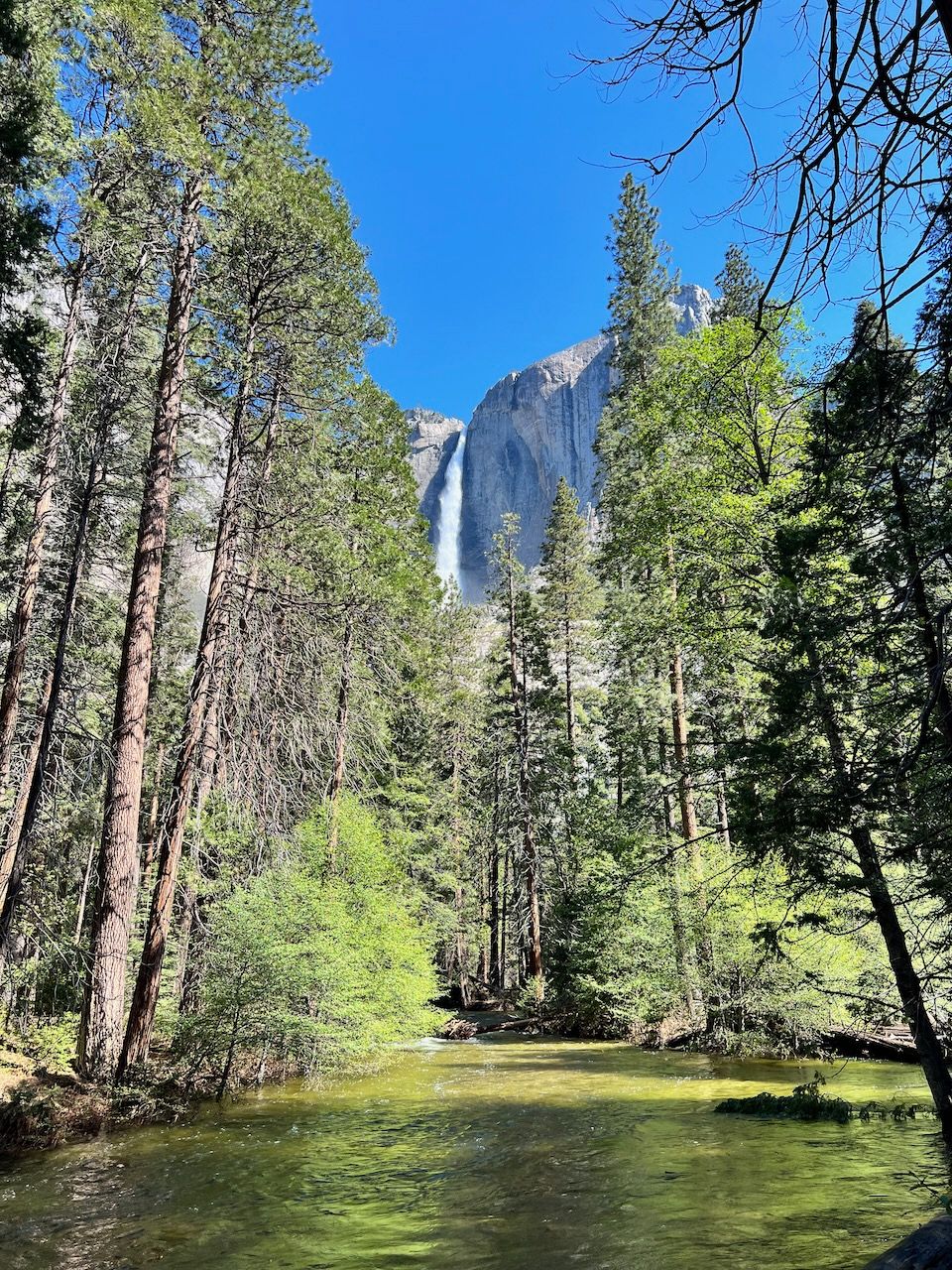 We took the shuttle (The shuttle was manageable in the morning, but since around 11 am, it was almost virtually impossible having a ride. In the afternoon, someone in front of us in the row said that she waited for 40 minutes, but the next bus just went away because it was full-packed.) and went to Sentinel Beach; there was no beach – the beach was under the water. However, the extraordinary flood gave me a shot for an extraordinary photo: mirrored El Capitan. Mirrored Half Dome on Mirror Lake is a famous photo scene of Yosemite. But I never thought that it was possible for El Capitan.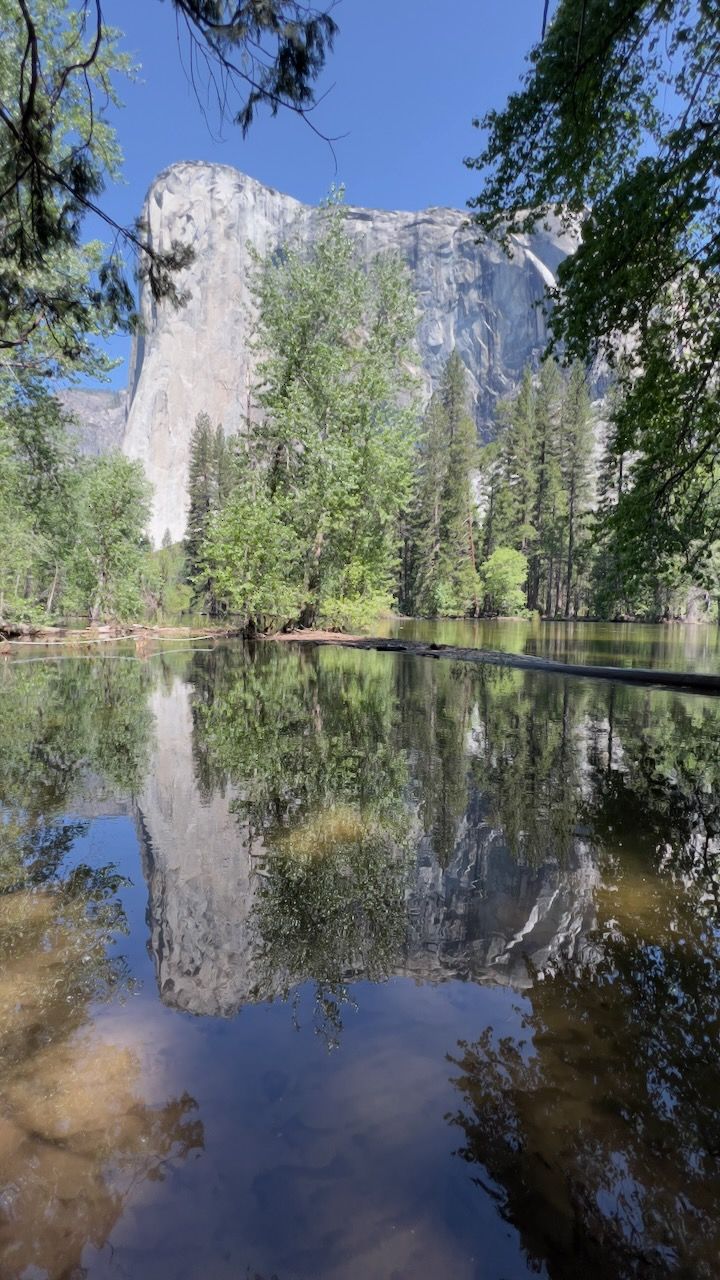 Moreover, I didn't need to visit Mirror Lake to take mirrored Half Dome because it was on every water in the meadows.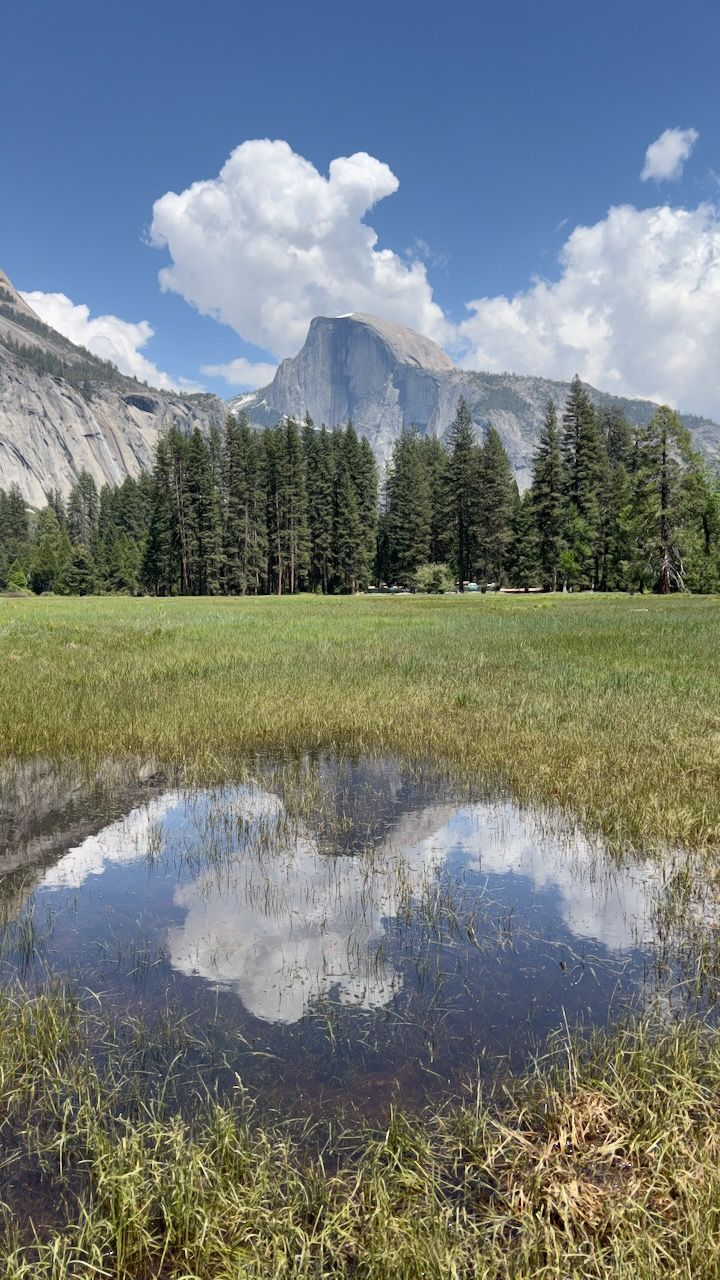 Water was everywhere. We walked through Valley Loop Trail and meadows. The water made every green and blue spot, which completed nature's masterpieces.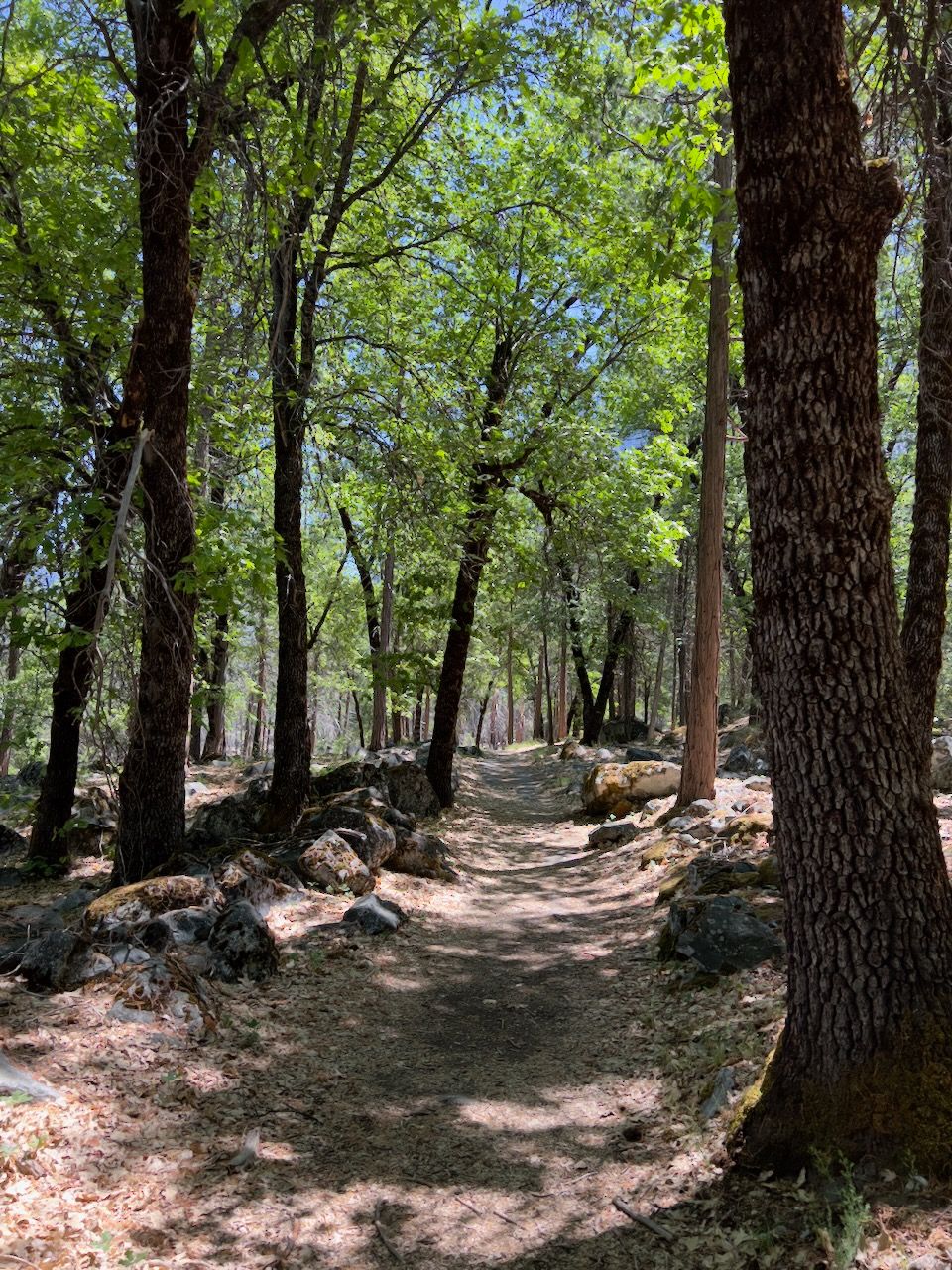 The next day, we headed to Mariposa Grove. Our day began promptly at 6 am, allowing us the opportunity to witness a breathtaking sunrise at Tunnel View.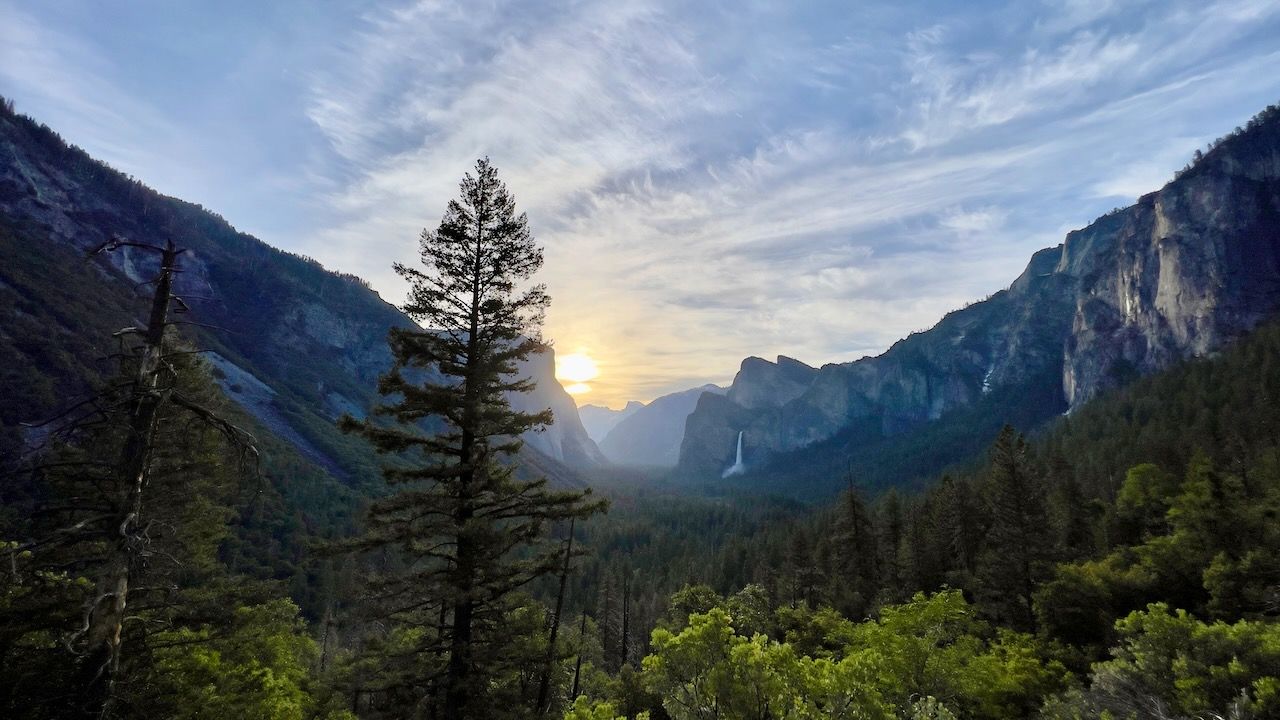 No food service at Mariposa Grove. So, we prepared/had breakfast at the parking lot. It was around 7:30 am, and the parking space was spacious (but it would've been filled up around 9 am). I heard it would be a 3-4 mile loop trail from the trailhead, but the tricky part was that there was no shuttle service that day. We had to walk to the "trailhead," and it was another 2-mile trail.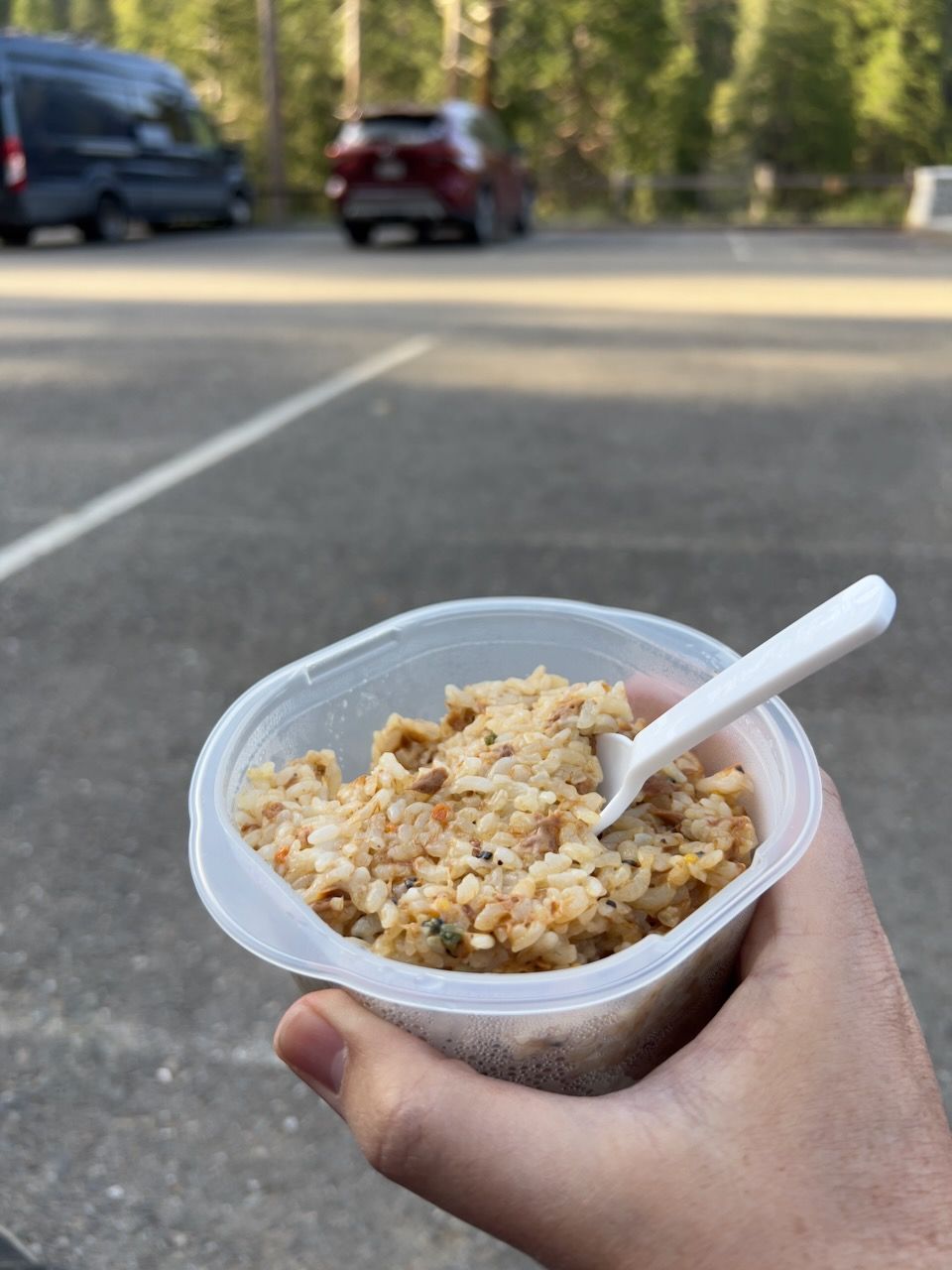 But it was an easy trail from the trailhead; we could enjoy beautiful giant Sequoias that were both tall and fallen.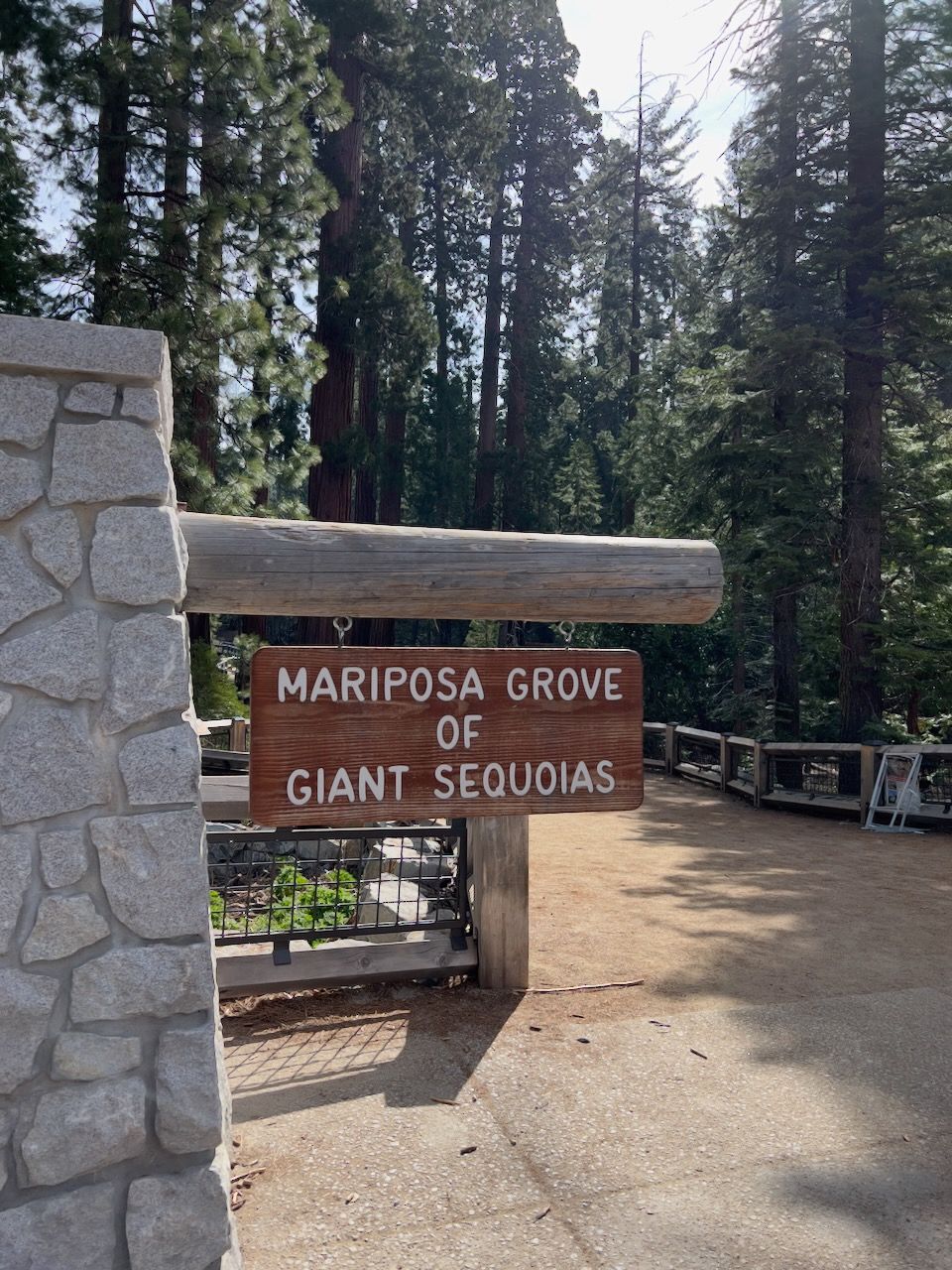 Our last travel food was at Waona Hotel. It was another great place to rest and refill the tired body and soul.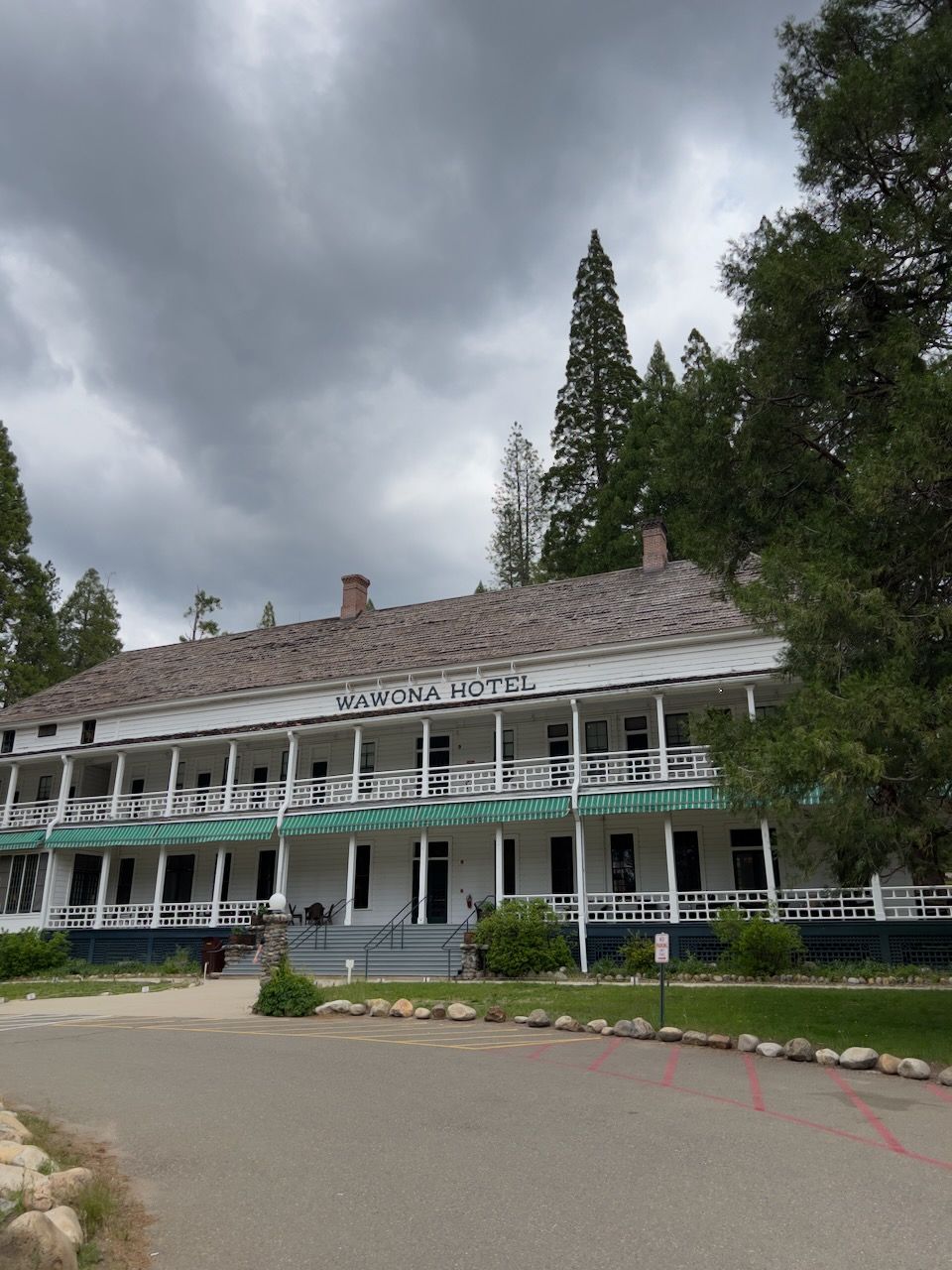 It was my second visit to Yosemite; both times during its busiest season. Several lessons
Moving fast and early always pays back. When we left the Park in the afternoon, we saw the line at the entrance gate passed our Lodge (more than 2 miles).
Breakfast/lunch at hotels can be useful: substituting money with convenience/time.
The shuttle is not reliable, especially in the afternoon.
Do not try to see too many things. Spending ample time and simply immersing ourselves in nature can prove to be an ideal approach, particularly in the busiest season.
And I got another bumper sticker.